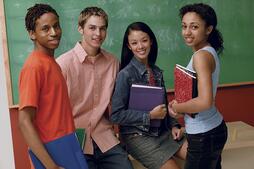 Students take charge of their own learning when the right tools are in place
Anyone who has been in a classroom knows that motivation matters a great deal. Students who were once turned off and checked out can make dramatic improvements when they take charge of their own learning. And that's what's happening at Southwest High School in Pharr-San Juan-Alamo ISD in South Texas.
Max Salinas, a high school algebra teacher and school facilitator of the Dana Center/Agile Mind Academic Youth Development (AYD) program sees preparing his students for high school success as a primary goal. He uses Academic Youth Development activities, tools, and supports to empower students and instill new behaviors, giving them permission to fail and to learn from their failures.
Watch this video to see what these AYD students are saying.
Created by Agile Mind in collaboration with the Charles A. Dana Center at The University of Texas at Austin, Academic Youth Development is based on new knowledge from the psychological and learning sciences and is designed to reshape students' academic identities, enhance their engagement in learning, and transform their achievement. By taking explicit steps to prepare students for a successful transition to Algebra I and to high school, educators can help ensure academic success – not only in Algebra I but also along students' academic trajectory to college readiness.
Districts report that enacting Academic Youth Development leads to significant gains in student achievement in mathematics, particularly for low income and minority students.
For details and data, download this AYD Research Brief.
https://www.agilemind.com/wp-content/uploads/2020/01/4_Students_Corbis_42-15580588-1024x681-1.jpg
169
254
raincastle
https://www.agilemind.com/wp-content/uploads/2021/11/agile_mind_2021_website_logo_340_156.png
raincastle
2020-01-07 03:45:04
2023-11-09 16:44:46
Motivation Matters: Academic Youth Development