Supported by the Bill & Melinda Gates Foundation
Background
Closing the Achievement Gap in Mathematics
Black, Latinx, and low-income students disproportionately underachieve their better-advantaged peers in mathematics. Removing this barrier to upward mobility is our mission. 
What have we found in our efforts to close this achievement gap? Students using Agile Mind's blended mathematics programs—that is, a combination of online and pencil-and-paper experiences for whole group, small group, and individual learning—are achieving at or above the levels of their more advantaged peers and are succeeding in Algebra at historic rates. How? We work intensively with our authors at the Charles A. Dana Center at The University of Texas at Austin, and with other experts in instruction—both for adults and for students—and in assessment to challenge students with engaging but rigorous curriculum aligned to their state standards, and we support their teachers with tools and training that extend their reach beyond the classroom.
Problems Remain
Out-of-classroom work in mathematics exposes other challenges, however: not all students have equitable access to technology outside of school. Teachers know this and hesitate to assign online problems outside of class, even though practice with worthy tasks is a powerful tool for success. Instead, many teachers assign printed worksheets they have known for years—most created before the next-generation standards.  The result?
Students say they find the worksheets pointless and fail or refuse to complete and turn in assignments—in many settings, fewer than 30% of students do assigned homework.

When students do complete the worksheets, their work is not at the level of the standards by which they will be tested.

The grading workload for reviewing submitted pencil-and-paper homework assignments is unmanageable for teachers.
The Opportunity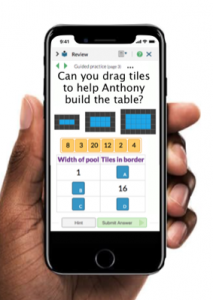 What if we could broaden access of online assignments to include those without computers or Internet access at home? Would it benefit those students directly, and would it encourage teachers to assign online problems, thereby benefitting all students?
To find out, we reengineered our next-generation interactive problems for middle school, Algebra, and Integrated Math 1, with support from the Bill & Melinda Gates Foundation, to make them accessible by smartphone.
To make the online portion of Agile Mind's mathematics services available to more students outside of the classroom, we made the following improvements:
enhanced our user interface (UI) for mobile phones with adaptive layout and new navigation elements to support mobile test taking,

created n

ew CSS styles and guidelines,

added accessibility tools such as zooming and text size adjustments,

re-architected, restyled, and resized existing dialogs (pop-up messages) and visualization

upgraded our video player to work on all devices with scaling, closed captions and HTML5 effects,

enabled smartphone capabilities, and

enhanced teacher reporting via dashboards to make it easier for teachers to understand how their students are progressing in real time.
We believe that, when teachers worry less about equitable access, they will not hesitate to assign online problems. Students will benefit from this change in teacher practice, and, if they find the problems more engaging, will spend more time on assignments. In the end, the more time students spend solving math and science problems that are worthy of their time, the more successful they will be. With only months, not years, of data, we are well down the road to proving out this logic chain.
Results
More Assignments Made and Completed
By enabling smartphone capabilities, Agile Mind helped educators in more than 200 districts remove barriers to high-quality homework experiences for 250,000 students. 
We saw dramatically higher percentage of teachers are making online assignments for their students—a 60% increase over the prior year. The increases were the greatest in schools where the greatest percentage of students use smartphones for homework. 
We also saw the percentage of assignments completed by students has also increased significantly. In a significant number of schools, 95% of students are completing assignments, up from as low as 30% in some schools.
The data clearly suggest that increasing equitable access to Agile Mind through smartphone capabilities correlates with a change in teacher and student practice in use of the assignment features, and therefore to increased access for students to meaningful learning opportunities. 
Analysis
To better understand these data, we conducted interviews and surveys with representative teachers, teacher leaders, and administrators. Teachers report the following benefits of smartphone access to Agile Mind assignments:
Most students at these grade levels who lack computer access at home have smartphone access.

Because of this, teachers' use of online assignments has increased.

Student completion of assignments has shot up.

Students find the problems more engaging to work on and don't really notice that they are more challenging, because of the graphics and interactions.

Teachers are benefiting from automatic, real-time grading.

Teachers, students, and parents are benefiting from real-time reports that identify progress and challenges.
Building on Success
Distance Learning During the Pandemic
These data suggest smartphone work provides more students access to high-quality math learning resources and problem-solving tasks. At the end of this school year, which was interrupted by the COVID-19 pandemic, these tools became critical in supporting student access to distance learning opportunities.
Expansion
To continue this work, we aim to make even more curriculum content available to students via smartphone and to allow students to access that content directly, whether or not a teacher assigns it. We are also working to improve aspects of the user interface design for more of our courses.
Professional Development
We are eager to support teachers in how best to use these powerful tools. We aim to build multi-pronged communications and professional development outreach to support teachers in how to use new capabilities, such as smartphone access, to work them into their instructional practice, and to introduce them to their students.
https://www.agilemind.com/wp-content/uploads/2021/11/agile_mind_2021_website_logo_340_156.png
0
0
marilyn
https://www.agilemind.com/wp-content/uploads/2021/11/agile_mind_2021_website_logo_340_156.png
marilyn
2020-08-13 15:18:30
2020-08-13 15:18:30
Learning on Smartphones: More Access for More Students