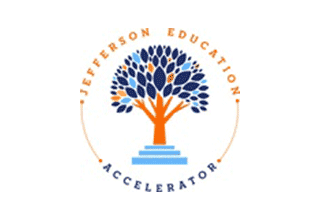 WASHINGTON, DC— (Marketwired – Jan 21, 2016) –  The Jefferson Education Accelerator (JEA) announced today the selection of Agile Mind as its latest company partner. Under the terms of the partnership, JEA will make an equity investment in the company and collaborate with Agile Mind to further demonstrate the impact of incorporating social-emotional and noncognitive skills development into core curricula to improve success rates among adolescents.
"Although the importance of social-emotional and noncognitive learning is well established, Agile Mind is one of the first education companies to put theory into action and achieve results at scale," said Bart Epstein, Founding CEO of JEA. "For more than a decade, Agile Mind has established a track record of success, helping major school districts embed cutting-edge research within instruction. JEA is excited to help Agile Mind scale its impact and identify best practices that can advance the field."
Founded in 2002, Agile Mind helps schools and school districts transform instruction to create engaging learning experiences in middle and high school math and science. Agile Mind's programs were developed in collaboration with leading research-to-practice organizations, such as the Charles A. Dana Center at the University of Texas at Austin, the Learning Sciences Research Institute at the University of Illinois-Chicago, and the Biological Sciences Curriculum Study (BSCS). Since its founding, Agile Mind has served over 3.5 million students and more than 30,000 educators across 29 states. The company has also received grant funding from The National Science Foundation, Institute of Education Sciences, and numerous private philanthropies.
"During a difficult transition to tougher standards and assessments, Agile Mind's commitment to instructional excellence helped our teachers cultivate in our students the social-emotional and noncognitive skills essential for tackling difficult subject matter," said Donna De Sena, Secondary Mathematics District Resource Teacher for Hillsborough County Public Schools. "Since implementing Agile Mind's intensified math curriculum for our two most challenged tiers of students, the likelihood of their passing the FSA Algebra I EOC has almost tripled — the highest increase among comparable districts."
"The Jefferson Education Accelerator is far more than an investor-partner," said Linda J. Chaput, CEO of Agile Mind. "Together, we are committed to demonstrating publicly that we can make a profound impact on student achievement — and that educational outcomes, above all, should drive the growth that will enable us to make an impact at scale."
As the nation's only growth-stage ed tech accelerator, JEA provides expertise and investment capital to education companies with strong evidence of success, and the potential to contribute to the field through research and evaluation conducted by leading education researchers and practitioners.
About Jefferson Education Accelerator
The Jefferson Education Accelerator (JEA) brings together the know-how, capital, and resources to address the unique needs of educators, entrepreneurs and organizations. Combining the unabashedly innovative spirit of education technology with the academic rigor and excellence of one of the nation's top-ranked education programs, JEA identifies and evaluates the most promising education solutions in the U.S. and puts them on track to achieving scale and making impact. For more information, visit www.jeauva.com.
About Agile Mind
Agile Mind is committed to enhancing equity and achievement in mathematics and science for all students. Founded in 2002, the company works in collaboration with educators to develop programs and tools that support engaging, rigorous instructional experiences. The company's blended learning programs encompass job-embedded professional development, student practice, formative assessment and analytics to improve student persistence and cultivate growth mindsets within rigorous core curricula.
https://www.agilemind.com/wp-content/uploads/2021/11/agile_mind_2021_website_logo_340_156.png
0
0
raincastle
https://www.agilemind.com/wp-content/uploads/2021/11/agile_mind_2021_website_logo_340_156.png
raincastle
2016-01-21 21:25:59
2020-01-08 22:57:11
Jefferson Education Accelerator Selects Agile Mind as Early Accelerator Partner